Next time you're visiting Chicago, leave the city and Uber over to the suburbs, where there's a restaurant that will totally transform the way you look at food — not to mention the way you eat it.
Jar Bar, a 30-seat game-changer in Northbrook, Illinois, serves pretty much all of its delicious, healthy and locally-sourced dishes in, well, jars. Everything from salads to oatmeal to some of the best chocolate cake you've ever tasted is beautifully presented and fun to eat. In fact, guests regularly admit that it's easier to eat better when your food makes you smile.
If you think this is overstating the joy that can come from something in a jar, just head over to Pinterest and search "jars."
At Jar Bar, cameras are as essential as forks and spoon because this is food at its Instagrammable best.
As a former TV producer for CNN, MSNBC and The Oprah Winfrey Show, visual appeal is something founder Karen Firsel knows all about. She opened Jar Bar with her husband, Adam, last May, and recently formed Cake Jar Nation in response to customers begging to order their irresistible Cake Jars online. You can now get Cake Jars delivered right to you.
With Jar Bar's first anniversary approaching next month — you may want to celebrate by ordering half a dozen Cake Jars yourself — here's what Firsel has to say about her latest adventure.
Why did you decide to go from TV producer to restaurant owner?
I left my last producing job with The Oprah Winfrey Show in 2003 as I decided I was ready to move on with my life, get married, and have a family. I had my daughter in 2007 and in 2010, after the birth of my son, I was ready to go back to some TV but I wanted to be in front of the camera. My on-camera work space has been telling stories about trends: beauty, style, wellness. I really understood the connection between brands and how people assimilate to them. Of course, I have always loved eating well, and the idea of community spaces – friends and family gathering over really good food. In 2017, I put it all together. I wanted to tell stories and I wanted to create a space with amazing food.
How did the original idea for Jar Bar come about?
Jar Bar was born out of a vision to create a forward-thinking healthy fast casual space in the suburbs. I have spent the last 10 years in my town, and I saw a void. Why did we have to drive to the city for really good, really interesting food and spaces? I was unhappy with the pizza/hot dog/hamburger culture and, given my enthusiasm for clean food, I felt like the space was open for us to conquer.
How did you research food trends? What did you find out?
We traveled to LA and to NYC to see how concepts were being born on the coasts. As well-read as I am about West Coast food, I wanted to see what was happening in LA. Alternatively, I know New York food really well as I lived and worked there for nearly a decade. Our findings reiterated what I thought: clean food is on the rise, people are demanding better choices, food has to taste good but it has to make you feel even better.
How did Chicago compare to other big cities in terms of food trends?
Chicago is a middle child and we don't get it as fast as the coasts do, but I know that the Midwest is following the trend. Chicagoans love good food, but we aren't quite ready for the really really forward ideas like full vegan restaurants or even some concepts focusing on elixirs and such. But, we are a town that can embrace some change. We are ready for Acai and Poke.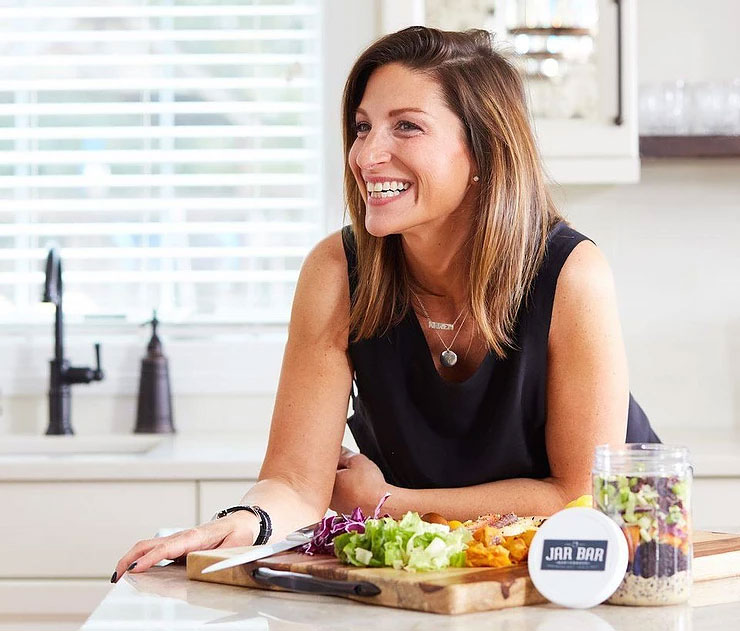 Karen Firsel, founder and owner of Jar Bar and Cake Jar Nation.
Why did you think Chicago would be a good place for Jar Bar?
I knew Northbrook, a Chicago suburb, would be the right place for Jar Bar because we were jonesing for it. I hovered over the social media groups of people who were eager for more choices and healthy options.
What was the biggest surprise of the whole process?
My biggest surprise was having to adjust my thought process. My brain works fairly fast and I was ready to knock out all of these really amazing ideas and items. I discovered people may not come along for the ride quite as quickly. I think they eventually get there as they trust the brand and they love our food and know we would never steer them wrong but I've tabled some of my ideas until we settle in more.
What did you change because of what you learned?
"Slow down the ideas, Kar." Let's stick with what is working and with what people have grown to love.
Tell us about your menu. Is everything in your restaurant served in mason jars?
Our concept focuses on Breakfast and Lunch menus. We have three signature items that are served in BPA-free clear recyclable plastic jars, which are much better than glass cost-wise. Our Cake Jars are served in 8 ounce jars, our Overnight Oats in 16 ounce jars, and our Salads in 25 ounce jars. Our other menu items are served in responsible restaurant packaging. For Breakfast, we have poached eggs over mashed potatoes and vegetables, hand-stirred oatmeals with unique toppings, avocado toast, and acai. For lunch, we serve hearty sandwiches, hot rice bowls and baked potatoes, and our signature Poke salad. Most of the menu is naturally gluten-free. We pride ourselves on using the freshest ingredients, watching sodium levels, and not using sugar in our recipes. Our food is made in house and we focus on really interesting flavor profiles and nutrient dense combinations. We are changing the fast casual category in the suburbs and we are really proud of that.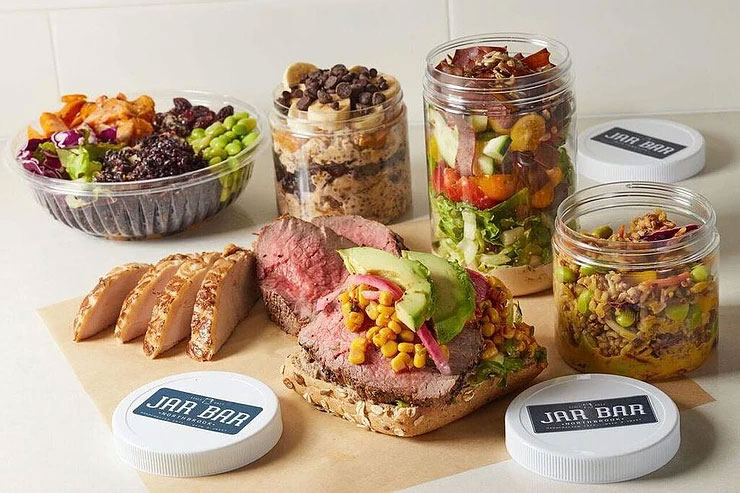 Jar Bar serves healthy food in jars.
Who came up with those clever names like "Gisele Probably Eats This" and "Kids Were Up at 6?"
I wrote the whole menu and came up with all of the recipes. The Jar Bar menu is my story, my life and the life of my favorite people. Things are named after my kids, my family, my experiences, my best friends. It's autobiographical and it allows for everyone to start a conversation about the items.
What have been the biggest challenges of being a restaurant owner?
Watching every penny. Managing all the moving parts. Not taking my eye off the ball. Staying level headed. I am surrounded by a great team — I hand selected each person to be here with me — and we are a family.
What's been the most rewarding part?
The best part, hands down, is making people happy. When they are here and love our food and love the concept, my life is complete. I have customers that come up and thank me for doing this — for opening and for taking a leap of faith. That makes it all worth it. Another thing that has come from this is having the ability to work with my husband on this project. He is a great support and none of it would be possible without him. And finally, I love showing my kids what is possible with hard work. I love that they have watched this idea grow and that they are proud to be here. I love knowing that they like to work here and understand that a culture of creativity and a hard work ethic will produce great results.
Let's get to the really good part – the Cake Jars! How did you come up with those?!
The cake jar is something I wanted to do from the beginning. I know that people love to eat with their eyes and I knew what was possible once we got creative. I worked hard to find a commercial bakery with pastry chefs who understood the vision. We are so happy with our baking partners. I also knew that the cake jars were MADE to be photographed and are perfect for Instagram. People love sharing their food experiences on social and with their friends and family. Cake Jars were MADE to be in that spotlight. Plus they taste BEYOND amazing.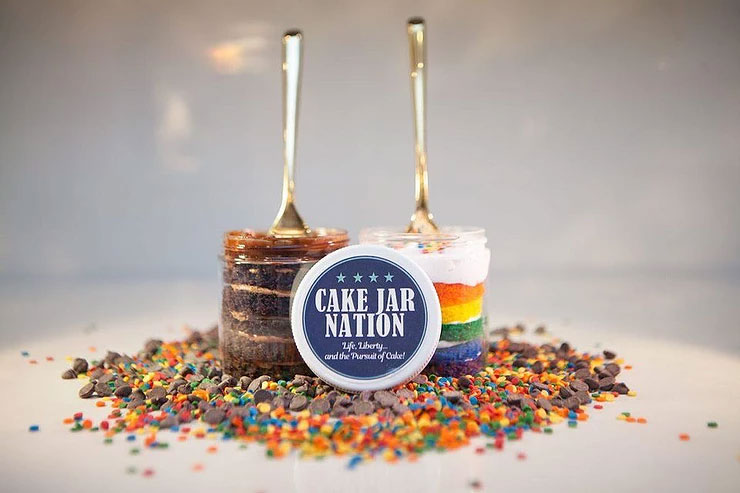 Cake Jar Nation is famous for its Cake Jars!
What made you decide to sell the Cake Jars as their own business and create Cake Jar Nation?
Cake Jars make up a significant portion of our business at our store in Northbrook, and I can't tell you how many people from across the country emailed, texted, messaged me across social asking if they can order. Our Rainbow Cake Jar deserves so much attention for its beautiful colors and its outstanding vanilla flavor.
I agree. The Cake Jars are delicious! How do you get them to stay perfect during shipping?
I worked so hard on getting the shipping down. It was exhausting! We ended up creating our own box with propriety insulation that helps keep the jars frozen or really cold during shipment. We ship in quantities of 6 or 12 and we ship them with five pounds of dry ice. We also worked hard to get our courier on board with really really amazing pricing for a two day ship. We know the cakes hold up beautifully when they arrive and customers are beyond happy.
Has Oprah tasted them?!
Funny question! Not yet but we are talking to her team. I know how much Oprah and Gayle both love cake, and I can't wait to tell and show Oprah what I have done since leaving my producing job. She has always encouraged her Harpo alumni to follow our dreams and to create our own paths. We have used her guidance to do just that. So many of us have reinvented ourselves but, behind it all, we pull from our TV experiences. So much of what I do at Jar Bar is just like producing a TV show. We open the doors in the morning, the lights go on and it's showtime.
Will you be adding new flavors?
We have always offered seasonal flavors for our Cake Jars in our store. For the summer, we make S'Mores, Pink Lemonade, Cotton Candy. For Fall, Pumpkin Latte, and Apple Crisp and for Winter, Peppermint Mocha. We will start offering more flavors for Cake Jar Nation as we grow the site and continue to get orders out.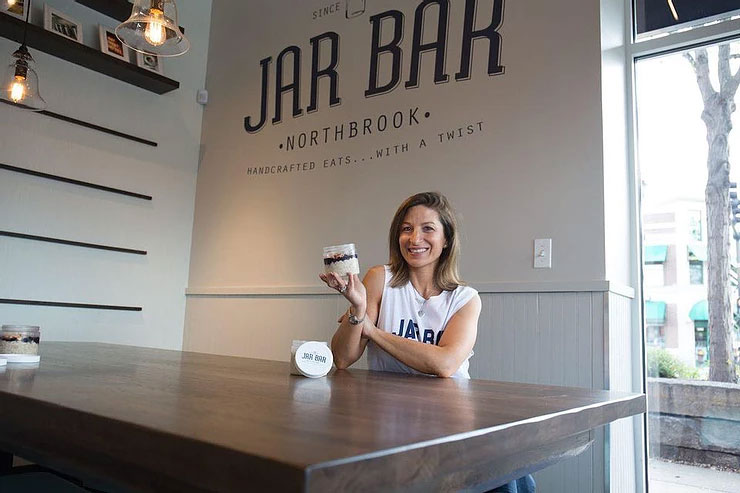 Karen Firsel, founder and owner of Jar Bar and Cake Jar Nation.
Will you be opening any more restaurants?
We are constantly evolving the brands and looking for our next move. The brand was created to scale and to open more locations.
What's next?
Jar Bar and Cake Jar Nation are growing. We are proud of who we are and what we serve. We know we have a long way to go but the hustle continues, and we fight to slay dragons every day. We continue to carve our path and make our lane, and are so grateful for everyone who supports us along the way.
Source: https://www.forbes.com/sites/loisaltermark/2018/04/04/this-restaurant-entrepreneur-thinks-outside-the-box-and-serves-cake-in-a-jar/#71abaae130a7